Micro Wire Butt Welder (mh)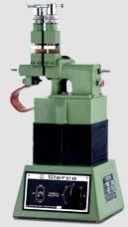 Business Type
Manufacturer, Exporter, Supplier, Retailer, Wholesaler
Rated Voltage
220 V
Output Current (Ampere)
0-100,100-200
Phase
Three Phase
Click to view more
It is specially designed for Butt welding of ferrous and non ferrous wires from 1.2 mm to 8 mm to withstand subsequent drawing. This machine is a table model and easy in operation.

WeldIng Process:
This Micro Butt Welder is automatic upset Butt Welding machine. The welding current and the initial upset gap are 10 set according to the size of wire, the upsetting pressure being preset. The ends of wires to be clamped by special quick acting clamps to correct alignment of the wire ends. By pressing a push button, the welding cycle is initiated and completed automatically by built in controls. The job is now de·clamped and annealed if necessary, in the provided annealing device.
Technical Specifications
MODEL
MH - 3
MH - 5
MH - 8
MH - 10
K.V.A. Rating
3
5
8
10
Input Supply
230 volts single phase A.C. supply 50 HZ
415 volts 3 phase 2lines 50 Hz.
Current Regulator
1
1
1
Welding Capacity Copper, Brass & Aluminium
15 step
15 step
8 step
8 step
Minimum
1.2 mm
1.5 mm
2 mm
2 mm
Maximum
3.6 mm
4 mm
5.5 mm
7 mm
Dimensions
L x W x H (Approximately in mm)
350 x 360 x 640
We reserve the right to change design and modify specifications at the discretion of our technical department
Looking for "
Micro Wire Butt Welder (mh)

" ?